COVID-19 and Its Impact on the Long Island Job Market
Our lives have been drastically changed in ways we never could have imagined as a result of the COVID-19 scare and the overreaction to it. The alteration of the job economy, particularly in areas like Long Island, is one of its notable severe effects.
The Negative Impact of Shutdowns
There's no denying the significant adverse impact that COVID-19 shutdowns have had on the job market in Long Island. When the virus began to spread, businesses, particularly those deemed non-essential, had to close their doors, either temporarily or permanently. These shutdowns led to massive layoffs and furloughs, leaving many Long Islanders without employment.
Industries that relied heavily on human interaction and physical presence, such as hospitality, tourism, retail, and arts and entertainment, were hit particularly hard. Many restaurants, hotels, shops, and theaters were unable to operate under the restrictions and suffered substantial financial losses. Some, unfortunately, never managed to reopen, leading to a permanent loss of jobs.
The shutdowns also took a toll on small businesses, which are crucial to Long Island's economy. Big box stores like Lowes and Home Depot were considered essential and allowed to stay open. Unlike these larger corporations, these small businesses often operate on slim margins and don't have significant financial reserves. With their income drastically reduced, many struggled to cover their operating costs, let alone keep their employees on the payroll. Also, in a break of logic liquor stores were considered essential and allowed to stay open. So you were still allowed to buy from a multi-billion-dollar corporation and get intoxicated but were discouraged from buying from small businesses.
Moreover, the shutdowns had a ripple effect on the local economy. As businesses closed and jobs were lost, consumer spending declined, further exacerbating the economic downturn. Unemployment also resulted in higher demand for social services, putting a strain on these resources.
The shutdowns have left scars on Long Island's job market, some of which may take years to heal fully. However, they have also highlighted the need for resilience, adaptability, and innovation in the face of adversity.
Shifting Job Landscape
Historically, Long Island's job market was robust, benefiting from its proximity to New York City and its diverse economy. However, the arrival of COVID-19 dealt a heavy blow, causing upheaval across various sectors.
Initially, the pandemic's effect was somewhat akin to a paused movie; businesses shuttered, and many jobs disappeared overnight. The hospitality, tourism, and retail sectors, major contributors to Long Island's economy, were hit especially hard. As quarantine measures were put in place, restaurants stood empty, tourist spots fell silent, and shopping malls closed their doors.
Yet, as time progressed, it became clear that this crisis was also acting as a catalyst for change, nudging the job market toward an accelerated digital transformation. This change, although initially challenging, started showing its potential in certain sectors.
The Rise of Remote Work
One of the defining characteristics of the job market transformation during COVID-19 has been the shift toward remote work. Many Long Islanders who commuted to New York City found themselves setting up home offices and adjusting to Zoom meetings instead of boardroom gatherings.
This transition wasn't smooth sailing for everyone. It required significant adjustments, from learning new technologies to dealing with blurred boundaries between personal and professional life. However, it also opened up new opportunities. Remote work meant that people could now apply for jobs without considering the commuting distance, vastly increasing the number of potential job opportunities.
The emergence of New Opportunities
While some sectors contracted, others expanded. The healthcare sector, unsurprisingly, witnessed a surge in demand. Similarly, jobs in delivery services, online retail, and IT support saw an increase. The tech sector, in particular, experienced growth, as businesses of all sizes became more reliant on digital tools and platforms.
Another sector that adapted and thrived was education. As schools and universities transitioned to online teaching, there was a growing need for educators well-versed in virtual instruction techniques. At the same time, the crisis also highlighted the importance of various underappreciated roles, including grocery store workers and sanitation staff, reminding us that every job plays a vital part in our society.
The Changing Face of Job Searches
The COVID-19 pandemic has also changed how job seekers and employers interact. Virtual job fairs, online interviews, and remote onboarding have become the norm, making job searches a vastly different experience from the pre-pandemic era. Networking, an essential component of job hunting, has also moved online, with LinkedIn, professional forums, and virtual meetups becoming vital platforms for connection and engagement.
Simultaneously, the job market's competitiveness increased, with more applicants vying for fewer positions, particularly in the hardest-hit sectors. Job seekers had to work harder to stand out, often needing to upskill or reskill to meet the changing requirements of the market.
The Struggle for Recovery – The Need for Trained Workers
Long Island, like many other regions, is grappling with the economic impact of COVID-19. While the pandemic has posed numerous challenges, one of the primary hurdles in the path of recovery is the absence of adequately trained workers.
With the pandemic accelerating trends such as digitization and remote work, the demand for certain skills has surged. Jobs that require digital proficiency, for instance, are in high demand, while occupations in emerging fields like clean energy and data analysis are seeing significant growth. However, a lack of workers with the necessary skills and training is impeding Long Island's ability to fill these roles and drive economic recovery.
This "skills gap" poses a significant problem. Businesses struggle to find the talent they need to grow and innovate, which in turn affects their competitiveness and productivity. At the same time, many job seekers face difficulties securing employment because they lack the skills required by the changing job market.
Addressing this issue is crucial for Long Island's economic recovery. It calls for a concerted effort from stakeholders – including businesses, educational institutions, and local authorities – to develop and implement effective upskilling and reskilling programs. These programs must be responsive to the evolving needs of the job market, equipping individuals with the skills they need to succeed in the post-pandemic world.
While the challenge is substantial, so too is the opportunity. By closing the skills gap, Long Island can not only recover from the economic impact of COVID-19 but also build a more resilient and adaptable workforce for the future.
Long Island's Recovery and Resilience
Despite the challenges, there's hope on the horizon for Long Island. As herd immunity rises and COVID-19 cases decline, businesses are beginning to rebound, and jobs are slowly returning. Approximately 60% of jobs lost during the pandemic had returned, but employment was still down compared to pre-pandemic levels. But this recovery isn't just about returning to the pre-pandemic normal. It's about building a more resilient job market, better prepared to withstand future crises.
This new job market might look different from what we're used to. We might see more flexible working arrangements, a continued emphasis on digital skills, and a more significant role for sectors that have proven to be pandemic-proof. However, these changes could also lead to a more robust and diverse job market.
Upskilling and Reskilling – A Key Response
In response to the changes in the job market, many Long Islanders found themselves needing to adapt. Upskilling – learning new skills – or reskilling – acquiring a new set of skills – became critical. For example, those in the retail sector, hit hard by store closures, had to transition into roles requiring more digital knowledge.
Local educational institutions and training centers stepped up, offering online programs and vocational training to help individuals update their skillset. From digital marketing to data analysis, these programs catered to the market's evolving needs. It was a testament to Long Islanders' resilience and adaptability in the face of unprecedented challenges.
The Rise of Entrepreneurship
Another interesting development sparked by the pandemic was a significant uptick in entrepreneurship. As traditional jobs became scarcer, many used this as an opportunity to launch their own businesses. From opening home-based bakeries to offering virtual fitness classes, individuals were finding innovative ways to generate income. The crisis became an unlikely catalyst for creativity, ushering in a wave of 'pandemic entrepreneurs.'
Looking to the Future
As we look towards a post-COVID-19 world, it's clear that the job market on Long Island won't be the same. Many of the changes that have taken place, such as the shift towards remote work and the growing emphasis on digital skills, are likely here to stay.
However, as challenging as this transformation has been, it's also an opportunity for growth. It's a chance to build a job market that's more resilient, more flexible, and better equipped to meet the needs of the 21st-century economy.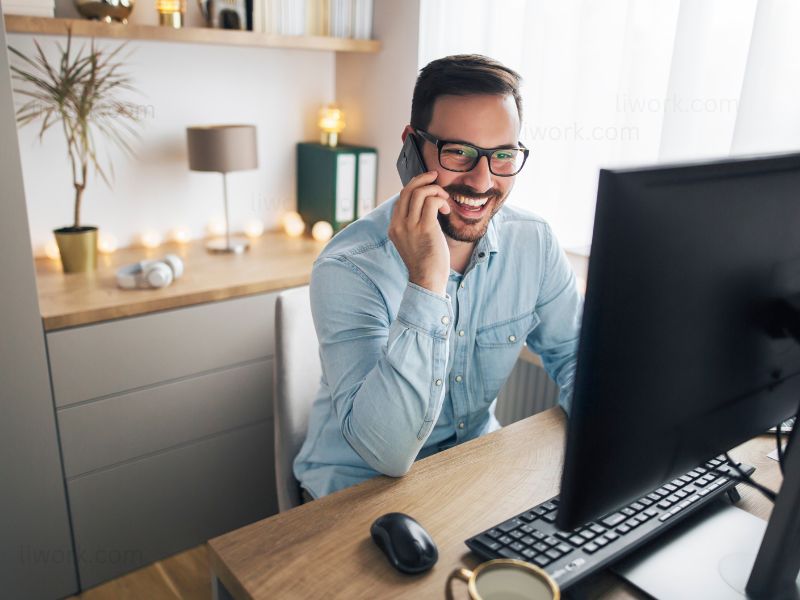 The Role of Government and Organizations
Governments and various organizations have played a significant role during the pandemic, providing support to individuals and businesses affected by COVID-19. From economic relief packages to unemployment benefits and grants for small businesses, these measures have helped cushion the economic impact.
In Long Island, local authorities have rolled out several initiatives to support the job market. They have offered resources for job seekers, helping them weather the storm and retain their workforce. Here are some of them:
Job Fairs and Employment Assistance: Various local authorities have organized virtual job fairs, bringing together employers and job seekers in a safe, online environment. They've also offered employment assistance services, providing guidance on job searches, resume writing, and interview preparation.
Training Programs: Recognizing the need for upskilling and reskilling, local authorities have partnered with educational institutions and training centers to offer various programs. These have ranged from digital skills courses to vocational training in emerging fields.
Business Grants and Loans: Financial support in the form of grants and low-interest loans has been made available to small businesses affected by the pandemic. These funds have helped businesses cover their operating expenses and retain their workforce.
Support for Entrepreneurs: Local authorities have rolled out initiatives to support 'pandemic entrepreneurs' who started their businesses during the crisis. This support has included access to resources, mentorship, and in some cases, financial assistance.
Mental Health Resources: The stress and uncertainty of the pandemic have taken a toll on many people's mental health. In response, local authorities have offered resources and services to support the mental well-being of those affected.
These initiatives reflect the commitment of local authorities in Long Island to support the job market and the wider community during these challenging times.
Nonprofit organizations also stepped up, offering resources ranging from career counseling and job placement services to support new entrepreneurs. These efforts have been critical in helping the job market navigate these turbulent times.
Preparing for the Future
While the pandemic is not over yet, the progress we've made gives us reasons to be hopeful. As we continue to navigate this evolving situation, the focus is gradually shifting towards the future.
How do we ensure that Long Island's job market comes back stronger from this crisis? How can we leverage the lessons learned during this period to build a more resilient and adaptable workforce? These are the questions that will guide us moving forward.
As we prepare for a post-COVID-19 future, it's clear that the job market on Long Island will continue to evolve. But with the resilience, adaptability, and community spirit that Long Islanders have shown, there's every reason to believe that the future is bright.
Moving Forward with Optimism
COVID-19 has undeniably reshaped the job market in Long Island, with some sectors facing severe setbacks while others have evolved and even thrived under these extraordinary circumstances. From the sharp rise in remote work to the necessity of upskilling, these changes have signaled a new era in the workforce, one that demands adaptability, technological savvy, and resilience.
While the challenges have been significant, the resilience displayed by Long Islanders – from job seekers to entrepreneurs, educators, government, and organizations – is inspiring. The spirit of community, adaptability, and perseverance that has emerged during these trying times is a testament to the region's strength.
As we look towards a post-pandemic future, we do so with hope and optimism. The lessons learned during this time will undoubtedly shape the job market of tomorrow, creating a workforce that's more resilient, diverse, and equipped to handle whatever the future holds. After all, change is the only constant, and the ability to adapt and grow with it is our most potent tool.
References:

State 1. New York's Labor Force: Assessing 10-Year Trends and Pandemic Setbacks
New York's strength has long been that its workforce is more diverse, unionized, and highly educated than the rest of the nation. The COVID-19 pandemic's …
Ny 2. [PDF] LONG ISLAND ANNUAL REPORT Powering Past the Pandemic – Regional Economic Development Councils
The region is struggling to get past the economic impact of COVID-19 due largely to the absence of trained workers. For this reason, our focus …
Newsday 3. One year in, the pandemic has taken an uneven economic toll across the region – Newsday
The Island's jobless rate was 8.5% for 2020 as a whole, though it dropped to 6.4% in January, state figures show. -. How LI employment declined.
Bls 4. How did employment change during the COVID-19 pandemic? Evidence from a new BLS survey supplement – Bureau of Labor Statistics
Approximately 60 percent of jobs lost had returned, but employment was still down compared to pre pandemic levels.In an effort to understand how …
Libn 5. What we'll see in '23 | Long Island Business News
With climate change, the COVID-19 pandemic, limited access to clean … Supporting the growth of our businesses and job opportunities is …
Libn 6. How we'll do in '22 | Long Island Business News
Michael Dowling, CEO, Northwell Health. It is now increasingly obvious that COVID will be with us in various levels of severity through 2022 …
© 2016-2023 by LIWork.com, an LiVenture. All rights reserved. No part of this document may be reproduced or transmitted in any form or by any means, electronic, mechanical, photocopying, recording, or otherwise, without prior written permission of LiVentures.