In today's Long Island market, more people are relying on the gig economy to get jobs done. The gig economy is when businesses hire independent contractors, freelance workers, and temporary workers to do particular jobs. These jobs are known in the market as "gigs". Gig workers typically work from home or out of the office for the majority of their shits. These jobs include data entry, customer service, freelance writing or call centers, Uber and Lyft drivers, selling belongings, survey takers, and much more. These jobs are becoming more popular. There are many pros and cons of the gig economy.
Pros Of The Gig Economy
Flexible Schedule
These types of jobs allow you to have the freedom to choose when you want to work. Most gig jobs allow you to have a flexible schedule. You can also work when you want and where you want. You have the option to work during the day or even at night depending on your availability. Workers can work as little as they want or as much as they want. For some of the jobs, you just have to sign in and you can get to work whenever you like. In the workplace, you are only able to work at the office. You don't have the ability to work in a variety of places. You can do your work at a café, the park, the library, etc. If you are a driver, you get a chance to see different areas. Uber and Lyft drivers get the option to sign on and work any time day or night as long as people need rides.
No Demanding Boss
If you are a worker who has trouble getting along with your boss, gig work is the perfect work for you. You will be your own boss so you don't have to answer to anyone. Most jobs have managers who are difficult making the workplace a hostile one. The gig economy is designed to eliminate this problem because you are working for yourself. There is no one to report to at the beginning or end of the day.
Ability To Work Alone
If you are the type of worker who likes to work alone, gig work is the perfect job for you. This line of work allows you to work by yourself so you won't have to worry about working with people you don't get along with well. It's also easier to complete the job without being interrupted by other co-workers. It's easy to get distracted from getting the job done when you are around other people. Gig work keeps that from happening. If you aren't a people person, this type of work would be an advantage for you.
A Variety Of Jobs Available
There are a lot of jobs available in this line of work. Workers aren't just limited to the work that is required in the office. You can do freelance writing, data entry, transcription, surveys, etc. You can do these jobs for different companies without staying with one company at a time. The variety can keep you from getting bored at the job. You can do whatever job you find that will keep you interested in your work. You don't have to do the same job day in and day out. You also don't have to work with the same company day in and day out. You can sign up for multiple jobs as long as you can handle the workload.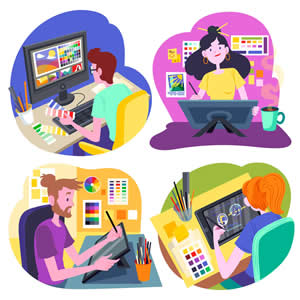 Convenience
If you are a stay-at-home parent, a disabled person, an elderly person looking for work, or a teenager who has trouble finding a job, you can get started with this type of work. Most of the jobs in the gig economy allow you to stay at home and work. This is perfect for people who stay at home and take care of their families. It's great for people who aren't able to travel to and from work for whatever reason. These workers end up saving money because they don't have to worry about the commute to and from work.
No Experience Required
Some of the jobs require little to no experience to do them. This is perfect for people who have never been in the workforce before. It's also perfect for people who have been out of the workforce for a long time and need something to fill the gaps in their resumes. For some jobs, all you have to do is sign up and get started. You may also have to download an app and then get started. You don't need years of experience in order to get these types of jobs.
Cons Of The Gig Economy
Company Isn't Responsible For Taxes
Independent contractors are required to do their own taxes when they get paid. They have to file their own taxes if they make over $600 a year. Freelance workers have to make sure that the taxes come out of their checks because they will owe money during tax time. Taxes aren't taken out when they get paid so it's the independent contractor's responsibility to make sure the taxes are taken out of their check. Employers in traditional workplaces make sure that their employees get all of the taxes they need taken out of their checks every pay week. This can be challenging for people who are used to having taxes taken out of their checks.
Lack Of Benefits
Most gig jobs don't have any benefits for independent contractors. This will be hard for people who need any type of health insurance and need companies to pay for it. Health insurance can be expensive if you are paying out of pocket. It also doesn't have a retirement plan so you will have to set money aside for retirement. At a traditional workplace, most workers are given benefits as well as retirement packages.
Possible Lack Of Work/Stability
This type of employment isn't secure. It's risky to take on this type of work because there are no guarantees that there will be any work available. There may be a lot of leads at one point in the month, but there might be a lot of slow periods where the work will be few and far between. In addition to no jobs being available, you may also have to fight for jobs. With more people looking for work, the job may be here today and gone tomorrow. You will have to do multiple gigs in order to supplement your income.
Pay Can Be Unstable
The pay for gig work can be tricky. One day you may make a lot of money and the next, you may not make much of anything. Drivers, in particular, may make a lot one day and nothing the next. They may have to drive around all day in order to make any money at all. In the traditional workplace, you are guaranteed a paycheck and won't have to worry about when you will be getting your next check. Data entry workers, writers, survey takers, and transcriptionists may also suffer from a lack of work and have to sign up with multiple companies in order to make money.
Can Be Stressful
The workers may end up stressing themselves out constantly working or looking for work. They may overwork themselves doing a variety of gigs in order to make money. Workers tend to get stressed out because they don't have any security with their jobs or they aren't making enough money. This may end up taking a toll on their health, which will cause them to stress out.
Isolation
Some workers may like working with other people. If you are one of them, gig work isn't the job for you. There are some people who enjoy working independently, while others like to have people around them so they can make friends. If you are a people person, you will want to be around others. These types of workers don't go to an office most of the time so they spend a lot of time alone. They don't get to experience socializing with other workers. This may cause a feeling of being left out and loneliness.
In conclusion
The job market is getting tougher so more people are turning to jobs in the gig economy. The pandemic is also making the gig economy more in demand because full-time jobs are getting eliminated because of it. People are being required to work from home instead of going into the workplace. These jobs don't require you to work in an office or deal with a demanding boss. Most gig workers can set their own hours and work when they like. Unfortunately, there may not be any job security or benefits with jobs like these. You may not make as much money unless you pick up a lot of jobs in different areas. It may or may not be worth checking out, but with everything happening in New York right now a gig opportunity might be best for Long islanders looking to make some income.
Sources:
© 2014-2022 by LIWork.com, an LiVenture.
All rights reserved. No part of this document may be reproduced or transmitted in any form or by any means,
electronic, mechanical, photocopying, recording, or otherwise, without prior written permission of LiVentures.